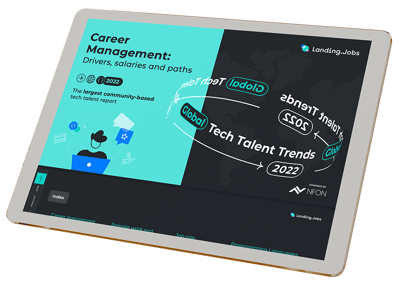 Everything about tech career management
career drivers satisfaction at work average salary job role influences location influences average years of experience gender influences
Some insights you'll find inside
Salary and Work-life balance matter the most to tech professionals.

Around around 18% of the IT Professionals are working remotely cross-borders.

Relocating to a different continent seems to pay off, literally.

Europeans working remotely to another continent are the most satisfied workers.

52,8% of people in Developer roles are Full-stack, Back-end or Front-end.

88,6% of professionals work full or hybrid remote.

Full office jobs are the most poorly paid (1,9x less than Full remote jobs).
NFON AG is a provider of Cloud-based telephone systems. NFON AG is the only pan-European cloud PBX provider – counting more than 40,000 companies across 15 European countries as its customers. With our intuitive communications solutions, we enable European companies to improve their work a little, every single day. NFON is the new freedom in business communication.